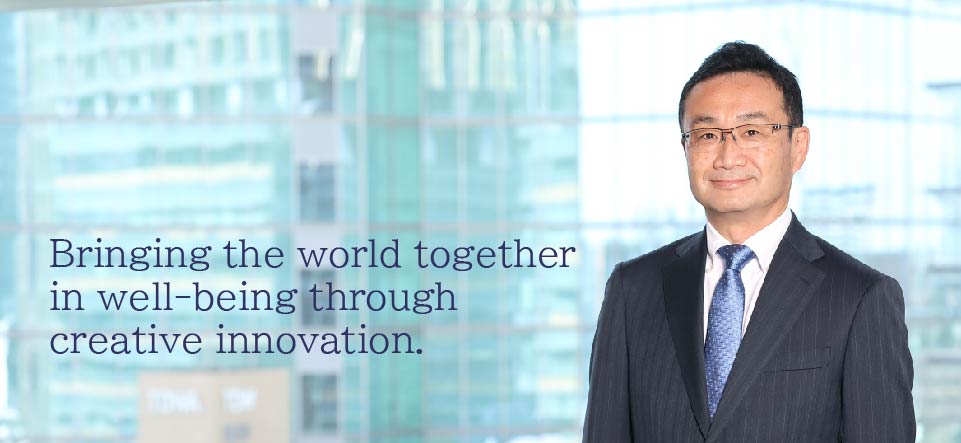 Since 1983, the Infocom Group has contributed to innovations in society through advancements in ICT, providing solutions and services to customers through information and communications.
Today, we provide IT services to medical institutions, regular corporations, public agencies, educational institutions, and research facilities. We also provide services such as Mecha Comic, the e-comic distribution service for comsumers.
The worldwide spread of COVID-19 has resulted in the wider use of telecommuting and online conferencing.
Employees and employers are searching for new work styles and lifestyles. I believe that the digital transformation (DX) will continue to progress in the business world, as companies incorporate IT into work processes to an even greater degree, eliminating wasteful meetings and shifting to remote conferencing.
To date, we have supported the businesses of our customers mainly through corporate ICT services. We believe, however, that recent changes require us to design services from a broader perspective, considering the needs of the individual end consumer and employee.
Our new three-year medium-term management plan began in fiscal 2020. Under this plan, we intend to pursue growth, mainly in two priority businesses: E-comic and Health IT. Already, our Mecha Comic has cemented a position as a top brand in e-comic, offering an enjoyable respite through manga (Japanese comics).
At the same time, our Health IT will continue to focus efforts in sales to hospitals and pharmaceutical companies, as we expand services in the nursing field, create more health-related services, and roll out our existing businesses to markets overseas. In these ways and others, we will contribute to better health for all through improved ICT-based medical care and welfare.
Infocom group are raising our sights to becoming a services company that delivers new value through the co-creation of advanced ICT and real-world businesses.
Norihiro Takehara
President and CEO