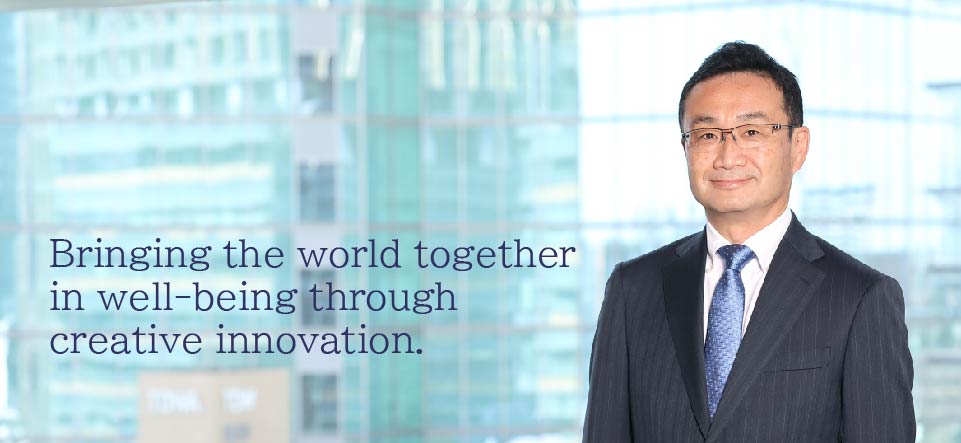 Since 1983, the Infocom Group has contributed to innovations in society through advancements in ICT, providing solutions and services to customers through information and communications.
Today, we provide IT services to regular corporations, mobile phone providers, medical institutions, public agencies, educational institutions, and research facilities. We also offer consumer services that include content distribution and e-commerce, accessible through mobile devices.
Our current medium-term management plan features the keyword, "co-creation." Inspired by this idea, we are pursuing E-comics and Health IT as two key growth generators.
We are making advancements into an expanded range of care fields under our Health IT business, leveraging innovative ideas into new businesses. As you know, Japan is experiencing a rapid rise in the average age of our population. By the year 2025, one of every three Japanese will be over the age of 65. At the same time, our nursing care labor force is getting older. Experts project that by 2025, our nation will experience a nursing care staff shortage of 400,000 workers. Many companies see an opportunity to use IT in solving these issues. We see business opportunities for Infocom as well.
However, we cannot solve Japan's serious social issues through IT alone. I also know we cannot introduce changes of this magnitude on our own. Infocom will work with venture firms owning advanced technologies and with long-term care providers to create new services. Since we are a business, of course we have to generate profits. But we strive for something beyond. Infocom leverages technology and expert knowledge to contribute to a better society, working in cooperation with our own affiliated companies, government agencies, and regional organizations. This is the true meaning of co-creation.
The Infocom Group engages in co-creation for a better society.
Norihiro Takehara
President and CEO