Infocom provides B2B solutions (medical, corporate, and public systems; packaged software) and B2C online services (e-comics and other digital entertainment).
At the same time, we are creating new businesses based on AI, IoT, and other advanced technologies.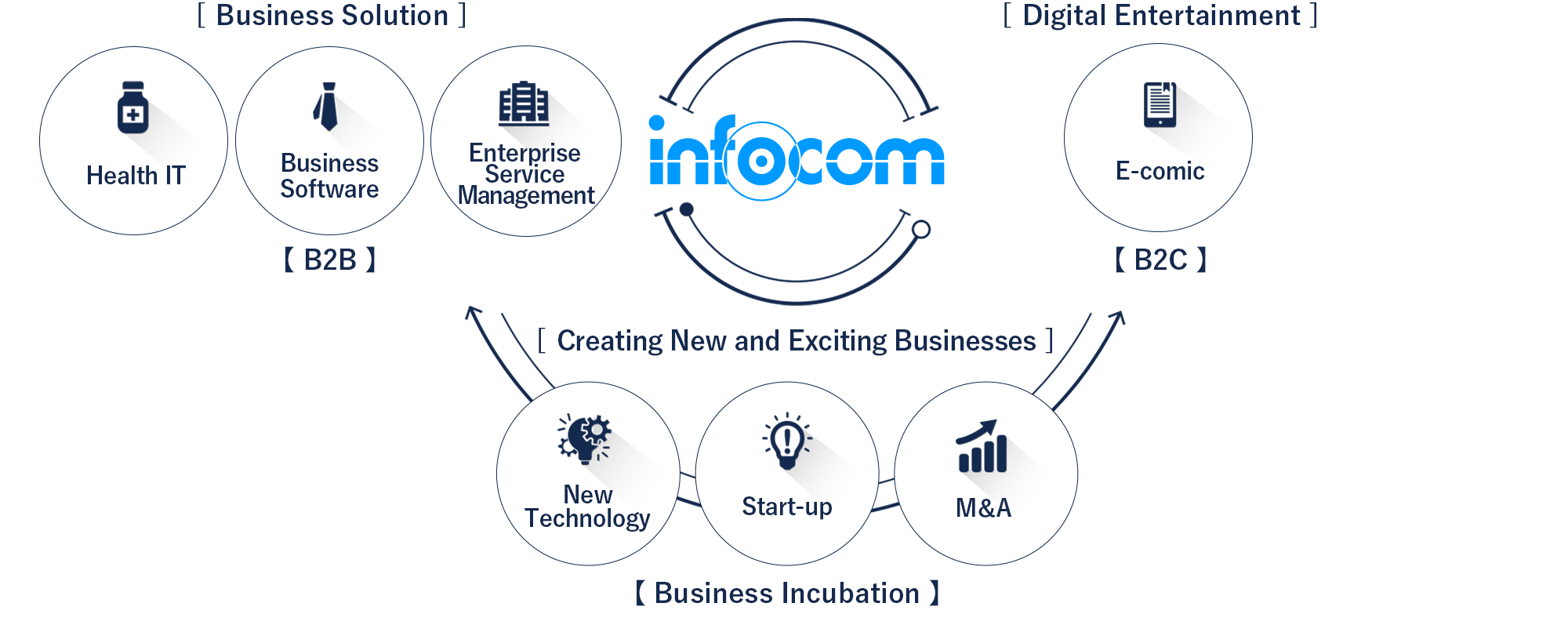 We develop solutions for radiology, pharmaceuticals, and other wide-ranging fields for medical institutions. We take care to reflect the viewpoints of both medical practitioners and patients in our products and services. Click here for details
Our IT! For Nursing Care provides answers to needs in comprehensive regional care and nursing care.
Among other services for general enterprises and public institutions, we offer GRANDIT®, a web-based ERP solution, and Emergency Call®, an emergency contact and personnel safety confirmation system.
Our solutions for digital content include systems to digitize corporate records.
Infocom provides IT services solutions in planning, information systems development, operations, and maintenance that solve issues faced by the Teijin Group, the Sojitz Group, other communications providers, and other customers.
We have obtained international quality certifications (ISO9001, 20000, 27001, etc.) for each of the services we offer.
Infocom operates Mecha Comic, one of the largest e-comic distribution service in Japan. Mecha Comic gives comic fans access to new and popular titles, old favorites, and unique originals, available for reading on all devices. The service has continued to grow since launch, exceeding JPY20 billion in sales for fiscal 2017.
Our other online businesses include digital distribution for online content.
Infocom sponsors a new-business creation program, Digital Health Connect. We designed this program to put entrepreneurs together with others in the healthcare industry to spark innovation in Japan's health industry.
We established the GnB Accelerator in Indonesia to support venture companies in that region, which we expect will enter a phase of high growth in the future.